November 10, 2021 - January 5, 2022
Once registered, access the Retreat Day any time from November 10, 2021- January 5, 2022 Registration opens: October 27, 2021 Registration deadline: December 22, 2021
Holy Interruptions – Regular Price $49.00USD Holy Interruptions – Group Rate $44.00USD Holy Interruptions – Leadership Package Discount $40.00USD
Learn to embrace unexpected, holy moments in your day-to-day life.
Through audio teaching, poetry, art, music, guided meditation, reflection questions and invitations into silence, Ann Kulp invites you into intentional quiet space to help you learn to notice and embrace unexpected, holy moments that happen each day.
Leader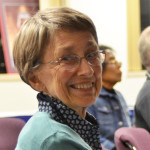 Ann Kulp was an associate staff member with Shalem for 17 years, leading quiet days, contemplative prayer groups, workshops with Tibetan singing bowls, adult education classes, series on the mystics, and other miscellaneous topics related to spirituality. Ann was a graduate of The College of William and Mary and Northwestern University.