October 21, 2021 - November 4, 2021
3 Thursday evenings, Oct. 21 to Nov. 4, 2021, 7PM to 9PM (Montreal time)
Regular: $80/person Dio Corporation Members: 70$/person
At a time of significant change and transformation for both the church and the world, this preaching workshop is designed to help students and lay preachers explore what it means to be accountable in preaching. It is particularly meant for those who are new to preaching, those who do not preach regularly, and those looking to develop their homiletical skills.
Jesus said, "From everyone to whom much has been given, much will be required, and from one to whom much has been entrusted, even more will be demanded." (Luke 12:48) Jesus is telling us that as his followers we are accountable, tasked to responsibly deploy the privilege that has been entrusted to us. This preaching workshop explores how these themes of accountability relate to sermon preparation and the preaching life. Preaching entrusts the preacher with plural accountabilities: to God and Scripture; to the congregation; and to the local and wider community. This accountability is framed relationally, and exercised interpersonally, communally, and in relation to Creation.  
Over three online sessions, participants in this preaching workshop will explore these plural accountabilities in preaching under the leadership of a gifted scholar, preacher, and teacher in the church.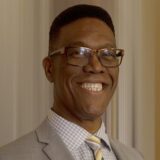 Instructor: The Rev. Dr. Anthony Bailey is the lead minister at Parkdale United Church in Ottawa. Originally from Barbados, Dr. Bailey grew up in the Montreal area and has academic degrees in both Canada and the USA. He has served as overseas mission personnel in Kenya as well as Jamaica, before arriving in his present position. His ministry at Parkdale is focused on worship, all-age faith formation, preaching, as well as biblical study and engagement that sponsors transformation, healing, love and social justice in the local neighbourhood and beyond.