June 12, 2020 - June 14, 2020
Main House Office
[email protected]
917-594-5800 Single – $170.00 Double – $200.00 Family of 3 – $200.00 Family of 4 – $300.00 ADA-compliant Double – $200.00 ADA-compliant Single – $170.00
79 Lower River Rd
West Cornwall
,
CT
,
06796
"Food, Health, and Spirituality" Wellness Retreat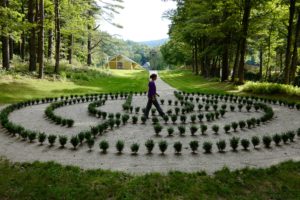 "Do you not know that your bodies are temples of the Holy Spirit, who is in you?" the Apostle Paul writes in 1 Corinthians. Join Trinity Retreat Center's culinary staff for a weekend focused on taking care of ourselves through the food we eat. Sample farm-to-table foods, harvest fresh produce from Trinity Retreat Center's farm, enjoy home-cooked meals around a common table, and rejoice in the love we can have for ourselves and creation through the preparation of food, mindful eating, and prayer. This retreat provides time for learning about meal planning, macronutrients, plant-based alternatives to meat, balanced nutrition (including baked treats!), and making healthy food choices an intentional lifestyle rather than a diet.
Led by Heidi Rose, Executive Director at Trinity Retreat Center, and Julia Phillips, Head Chef at Trinity Retreat Center.
This retreat is suitable for adults and for young people who are capable of participating in adult conversations and activities.