December 4, 2015 - December 6, 2015
Jean Richardson and Marcia Eames-Sheavly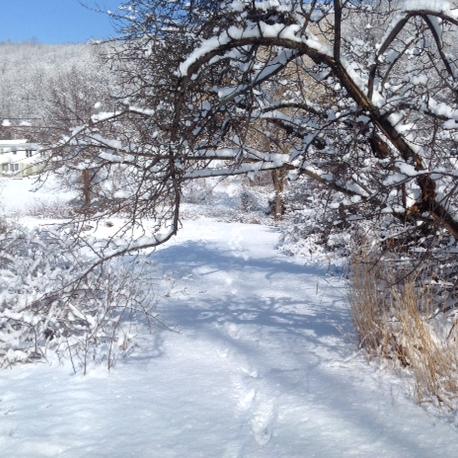 Time:
December 4, 2015 6:30 PM until December 6, 2015
More Info:
Please join us as we use the natural metaphor of winter to explore, in the shifting seasons of our lives, those relationships which may need to transform in some way, just as the quiet time of rest outdoors prepares the world for deep connection and change.  Come prepared with appropriate dress for chilly walks outdoors; your facilitators will foster a safe space for slowing down, holding space for renewal in a quiet, reflective, and focused setting.  Using the retreat model of a Circle of Trust, based on the work of Parker Palmer, this three-day retreat offers the invitation to sit with others, to restore your soul through deepening a connection to important questions related to our renewed relationship with winter.
Jean Richardson serves as the director of Kirkridge Retreat Center in Bangor, Pennsylvania. Prior to her move Jean spent 10 years on the staff of Ghost Ranch, a national conference center of the Presbyterian Church U.S.A. located in New Mexico. A Presbyterian minister, she has worked a variety of professional capacities in retreat settings for the 18 years. A trained facilitator of the Center for Courage and Renewal she has led over 30 Courage and Renewal programs. Earlier in her career Jean served as a community organizer, urban pastor, consultant and adjunct faculty member with San Francisco Theological Seminary.
Marcia Eames-Shevly is a horticulture educator at Cornell University. She believes that we have a lot to learn from plants: scientific concepts and principles, certainly, but also lessons about caring, beauty, stewardship, and our own growth. She devotes nearly all of her professional time to bringing people and plants together, whether the people are students at Cornell, online participants around the world, or members of communities from New York to Belize. Reflection, community, participation, experience, and grappling with the big questions are cornerstones of this engagement, and the way in which she aims to conduct her life as well.
Cost $445 includes double occupancy room, board and tuition
Save 20% when you call to register for this event and Celebrating Spring in Our Lives and Relationships: A Courage and Renewal Retreat® April 22-24, 2016