September 16, 2020 - December 9, 2020
Wednesday evenings 6.15pm to 8pm Eastern time
$320: Auditor $400: Montreal School of Theology (MST) student $490: independent and Non-MST student
The first-century Jewish man, Paul of Tarsus, is foundational to later Christianity. Paul's letters form a major part of the New Testament. This course is an introduction both to the person and his letters, with a specific focus on situating Paul in his early Jewish context. The course content is both historical and critical in approach and designed to give students skills to serve in pastoral ministries. Students will encounter an overview of the major historical trends in Pauline interpretation and be given tools for literary and historical analysis of Pauline texts, with specific attention to how different ways of reading the text influence how we interpret these ancient texts. Students will learn more about Paul and the communities he wrote to and understand how they fit into their broader Roman, Hellenistic, and Jewish contexts.
The specific skills that students will develop in this course include: pastoral and ministerial use of the tools of the field of New Testament Studies; development of skill in exegeting Pauline texts in their first-century Jewish contexts in the service of pastoral ministries; and learning to negotiate very different understandings of the major theological concepts arising from Pauline literature. In order to practice using Pauline texts in the students' church community contexts, the course will use the understandings of the "Paul within Judaism" approach to examine lectionary texts specifically drawn from autumn 2020 (Year A and B readings) and apply those approaches to assigned bible studies and sermons.
This course is open to people engaged in lay or ordained ministry, those preparing for ministry, or those looking for continuing ministerial education.
Credit: This is a 3-credit course. Credit can be offered towards the Master of Divinity or Certificate in Theology programs, or students may enroll as non-degree independent students. Auditing is also possible. Auditors do all the assigned reading and attend all class sessions but do not submit written assignments and do not earn credit. The college can also prepare certificates of attendance for those who need continuing education credit.
Admissions: The basic admission requirement is an undergraduate degree (in any subject) or its equivalent with a 2.7 CGPA. Please contact the college if you have any questions about whether you are eligible to apply.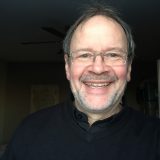 The Rev. Dr. Matthew Anderson
Instructor
INSTRUCTOR
Matthew Anderson (PhD McGill, 1999) is an ordained Lutheran minister who has taught New Testament, Pauline Letters, and Theology in Film classes at Concordia for almost twenty years, "Intro to Paul's Letters" at the University of Nottingham in England, and two previous classes for the Montreal School of Theology. Read more about Dr. Anderson.