September 11, 2019 - December 4, 2019
September 11 to December 4, 2019
This course focuses on the spiritual traditions and practices of Christianity, too often neglected among the resources that people draw on for the spiritual life. It will consider how Christian spirituality evolved and changed over the centuries in response to contextual demands, and how different practices from that tradition can help us in our current context to develop lives rooted in prayer, self-awareness and discernment. Topics will include the relationship of theology and spirituality, major historical traditions and contemporary practices of spirituality, and the integration of prayer, meditation and discernment for a healthy Christian spiritual life.
TUITION
$320: AUDITOR
$400: MONTREAL SCHOOL OF THEOLOGY (MST) STUDENT
$500: INDEPENDENT AND NON-MST STUDENT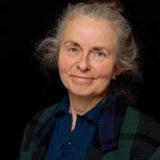 The Rev. Dr. Holly Ratcliffe
Instructor
The Rev. Dr. Holly Ratcliffe is an Anglican priest with a background and experience in scholarship, parish ministry, spiritual direction, and ceramic art. She pursued her theological studies at Trinity College, Toronto, General Theological Seminary, New York, and l'Université de Montréal where she completed her doctoral dissertation on Julian of Norwich. Dr. Ratcliffe has served in parishes, prison ministry, and at the Unitas Centre for Christian Spirituality and Meditation in Montreal.
This course is open to people engaged in lay or ordained ministry, those preparing for ministry, or those looking for continuing ministerial education.
Credit: This is a 3-credit course. Credit can be offered towards the Master of Divinity or Certificate in Theology programs, or students may enroll as non-degree independent students. Auditing is also possible. Auditors do all the assigned reading and attend all class sessions but do not submit written assignments and do not earn credit. The college can also prepare certificates of attendance for those who need continuing education credit.
Admissions: The basic admission requirement is an undergraduate degree (in any subject) or its equivalent with a 2.7 CGPA. Please contact the college if you have any questions about whether you are eligible to apply.
Application: If you have taken a course at the college before, please contact the college to indicate your interest in enrolling in this course. If you have never applied to the college before, please submit an application and apply as either an independent student or a MST Certificate in Theology student. Once the application process and registration are complete, students will receive more information about the course including readings and assignments.