May 13, 2022 - May 15, 2022
Arrival May 13 at 3:00pm Departing after lunch on May 15
Private Room (Single or Double Bed; Shared Washroom) – CAD $570.00 Commuter – CAD $400.00
Praying with Ignatius of Loyola to identify your deepest desires and how God animates your life.
This weekend retreat will explore life and wisdom of Ignatius of Loyola and engage some of the essential prayer methods he popularized in the Spiritual Exercises. Learning how to pray with these tools will help you begin to discern where you are most alive and where and how God animates your life. This retreat is geared for people new to Ignatian spirituality as well as those who wish to dive deeper into their experience of the Exercises and anyone in between who may be discerning the next steps in their life. The retreat will follow a rhythm of inspiring talks, silent time for individual prayer, small group spiritual conversation, and breaks offering fresh food and plenty of time to rest and explore the lake, gardens, and grounds of the retreat centre.
"Witnessing people fall in love with God in their own unique way energizes me. My passion is to catch people where they are most alive like a kingfisher of souls (Matthew 4:19). My ministry in Ignatian spiritual formation helps people identify that place within themselves where God has planted their deepest desires. I encourage people to invite God to animate their lives so their good and holy desires come to fruition and they flourish in fullness of life (John 10:10)." – Catherine M. Kelly, M.Div., Retreat Director
If for any reason you are unable to join us in person, you are welcome to attend online.
Teacher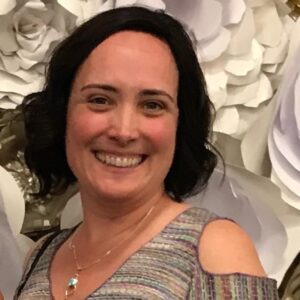 Catherine M. Kelly, M.Div.
Catherine is the Director of Spiritual Formation, Retreats and Christian Life Community and Parish Synod Coordinator at St. Mark's Parish in Vancouver. A member of the UBC Catholic Chaplaincy team, she guides spiritual formation and discernment through Christian Life Community (CLC), a worldwide lay apostolate rooted in the Spiritual Exercises of St. Ignatius of Loyola. Recognized as an international speaker and retreat director, Catherine directs the Spiritual Exercises.  A former attorney, editor and grant writer, Catherine is passionate about seeking and finding God in all things. She received her Master of Divinity from the Jesuit School of Theology in Berkeley, California. …
Learn more about Catherine M. Kelly, M.Div.