October 15, 2019 - November 15, 2019
Tuesdays: 7.00pm to 8.30pm EST, starting October 15, 2019
Discipleship is a key theme in the life of the church today—and it's a central concept in the Gospel of Matthew. This non-credit, 5-session online course is a follow-up to last year's popular course on the Gospel of Luke. The course introduces the key themes of the Gospel of Matthew in preparation and is designed for lay people and clergy, those who will preach sermons and those who will listen to them, and those who wish to deepen their understanding of Scripture in a critical and reverent fashion. Individuals and groups are welcome to register for the course. There is no assigned reading and no written assignments. All you need is a willingness to listen, ask questions, and grow as a follower of Jesus.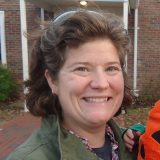 The Rev. Dr. Hilary Bogert-Winkler
Instructor
The Rev. Dr. Hilary Bogert-Winkler is the new Director of Pastoral Studies at Montreal Dio. Hilary has a decade's worth of experience as a priest in both parish and youth ministry. She has recently completed a doctorate at the University of Connecticut. She brings to this course a deep love of the Bible and a desire to bring it to life for Christian groups everywhere.
$60: Per connection for members of the Corporation of Montreal Diocesan Theological College.
$80: Per connection for all others.
Credit: Non-credit
Language of instruction: English
Admissions: Students must have reliable Internet access to participate in the class. Meetings are via Zoom. This course is open to all.
Application and registration: To apply, please contact [email protected] or (514) 849-3004 x221 to initiate the application process. Once the application process and registration are complete, students will receive more information about the course.