Unusually heavy rains since January have caused flooding and mudslides in normally arid coastal Peru, killing more than 100 people and damaging tens of thousands of homes. Photo:  © UNICEF/UN057587/Jose Vilca
---
The Anglican Church of Canada's relief and development agency is contributing $20,000 to help people stricken by recent dramatic flooding in Peru.
The Primate's World Relief and Development Fund (PWRDF) announced March 29 it was making the emergency grant in support of its partner, ACT Alliance, an international network of faith groups that does aid, development and advocacy work.
The money will help ACT and its own local partners in Peru, which are supplying food, temporary shelter and hygiene kits to 680 affected households in four villages in the Ica and La Libertad regions of the country, PWRDF said.
The four-month emergency aid project will also aim to help communities mobilize themselves to provide "psycho-social care" through home visits or group activities to afflicted people, PWRDF said.
Coastal Peru, normally arid, is now suffering its worst flooding since 1998, as a result of unusually heavy rains. The flooding began in January and has worsened since then, PWRDF said. ACT has so far committed $149,952 (U.S.) to the crisis.
According to an Anglican Communion News Service (ACNS) story, more than 100 people have been killed by the recent floods and landslides, with an estimated 118,000 people seriously affected. More than 28,000 homes are now either severely damaged or uninhabitable, ACNS said, with much of the country's infrastructure damaged as well. Meanwhile, relief efforts have been hampered by fast-flowing rivers and mudslides.
The Anglican Church in Peru has launched a new appeal, "Help Us to Help Others," to raise money for the most vulnerable and neglected communities affected by the crisis, ACNS said.
Individuals and non-governmental organizations have helped provide emergency food, clothing, shelter and water, ACNS said, but supplies have been dwindling over time and many stricken communities are still waiting for longer-term solutions from the local and national governments.
According to a "Plan of Action" released by the church, small communities near Lima, the capital city, received aid early on, but are now struggling, and others, as yet unreachable, are thought to be in a similar situation.
The Plan of Action envisages providing tents, mattresses, cooking supplies, food, water and basic toilet facilities to these communities, and helping children with stationery for school. The Peruvian church, ACNS said, is hoping for support for the plan from the worldwide Anglican Communion.
Paulo Ueti, facilitator for Latin America and the Caribbean for the Anglican Alliance, a coalition of Anglican aid groups including PWRDF, said the alliance was following the crisis, and signalled its support.
"We are sure the church as a family is doing everything in its capacity to accompany and be the angel of good news amidst suffering and desperation," he said. "Together we are stronger and as community we certainly can do more, so count on us."
About the Author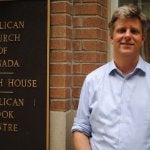 Tali Folkins has worked as a staff reporter for the Law Times and the New Brunswick Telegraph-Journal.  His writing has appeared in The Globe and Mail and The United Church Observer.
__________________________________________________________________________________________________________________________________
Anglican Journal News, April 07, 2017