Jerusalem Sunday: June 2, 2019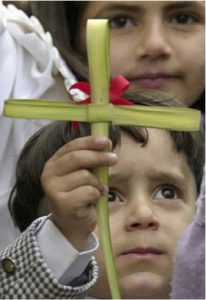 At the 2013 Joint Assembly, General Synod passed a resolution to "observe the Seventh Sunday of Easter, commonly known as the Sunday after Ascension Day, as Jerusalem Sunday." For 2019, the theme for Jerusalem Sunday is Multi-Narrative Pilgrimage.
Jerusalem Sunday is an opportunity for Anglicans in Canada to learn more about and support God's mission in the Diocese of Jerusalem. Parishes are encouraged to use liturgical resources listed below in celebration of Jerusalem Sunday. Parishes and individuals are also invited to make an offering in support important health care work in the Diocese of Jerusalem.
In a letter to Archbishop Fred Hiltz, Primate of the Anglican Church of Canada, the Most Rev. Suheil Dawani, Anglican Bishop in Jerusalem, expressed his gratitude for Jerusalem Sunday celebrations. "It is a tremendous encouragement and further testimony to our oneness in the Body of Christ and our bond-of-affection as members of the Anglican Communion."
2019 Jerusalem Sunday resources

Multi-Narrative Pilgrimage is the theme for this years Jerusalem Sunday.
Bulletin Image (right click to download)

NEW

Photos from the Episcopal Diocese of Jerusalem
Feel free to download these photos for use in parish material
Resolution from General Synod 2013 on Jerusalem Sunday: Resolution A171
Special Offering Envelopes are available free of charge from the Department of Global Relations. Please send requests to Claudia Alvarez.
Canadian Companions of the Diocese of Jerusalem Facebook page
Donate now to the Diocese of Jerusalem by using the online donation form at the bottom of this page. All Jerusalem Sunday offerings and donations support the work of the Al Ahli Arab Hospital in Gaza.
To find out more and learn how to give, please click here.
To become connected with the Diocese of Jerusalem throughout the year, consider becoming a Companion of Jerusalem.
______________________________________________________________
Anglican Church of Canada, News from General Synod, May 07, 2019