October 1, 2019 - October 14, 2019
R19 Palestine of Jesus
October 1 – 14, 2019 
$3,430
"The Palestine of Jesus course combines biblical and historical studies with pilgrimage to selected sites connected with Jesus' life, ministry, death, and resurrection."
The Palestine of Jesus course combines biblical and historical studies with pilgrimage to selected sites connected with Jesus' life, ministry, death, and resurrection. It has a greater focus on the historical contexts and cultures in which Jesus' exercised his earthly ministry than the shorter Footsteps of Jesus course.
During your stay you will be a guest of 'living stones', the local Palestinian Christian community, with whom you will draw nearer to Christ in the breaking of the bread.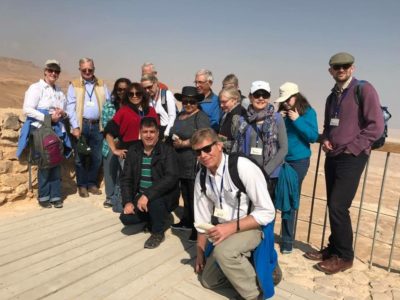 Aims of the Course:
You should expect your faith to be transformed and renewed as you make your pilgrim journey through the Holy Land. We will learn together, pray together, and worship together as we go.
During the course our academic staff and chaplain will enable you:
To explore the Holy Land as Christian pilgrims
To study the life and ministry of Jesus of Nazareth
To explore the historical contexts and cultures of the land where Jesus' carried out his ministry
To integrate contextual biblical study with theological and spiritual reflection
To encounter the roots and traditions of the Christian faith
To begin to understand some of the contemporary issues in Israel and Palestine
To relate our experiences to our lives and ministries in our home contexts.
Content of the Course:
While the details of every programme vary depending on local circumstances and date, we would typically visit the following places during the course:
The place of Jesus' birth in Bethlehem.
Herod the Great's mountain fortress in the desert (Masada).
Jesus' childhood home and the site of the Annunciation in Nazareth.
The site of Christ's baptism (where there is an opportunity to renew baptismal vows).
The desert where Jesus was tempted after his baptism.
The Sea of Galilee, including Jesus "own town" (Matt. 9.1), Capernaum.
Caesarea Philippi, where Peter answered Christ's question, "Who do you say that I am?" (Mark 8.29).
The source of the Jordan River.
Ancient Shechem/Sychar, where Jesus encounters the woman of Samaria at the well (John 4.7-15).
Bethphage, where Jesus entered Jerusalem in triumph (Mark 11.1-10).
The Garden of Gethsemane (Mark 14.32–49).
The remains of the Jerusalem Temple complex from Jesus' day (i.e. the Wailing Wall).
The Dome of the Rock.
The Way of the Cross, the site of the crucifixion and Jesus' tomb.
Caesarea Maritima, from where Pontius Pilate ruled Judaea, Cornelius converted to Christianity, and Paul was held prisoner before being sent to Rome.
You will see the Dead Sea Scrolls and visit the site of their discovery.
You will also have a chance to float in the Dead Sea and to worship with the local Anglican community.
Please refer to our course registration section for a list of the dates for this course. If you would like to discuss this course further do please contact us.