National Indigenous Anglican Bishop Mark MacDonald updates members of Council of General Synod (CoGS) on plans for a self-determining Indigenous Anglican organization Saturday, June 24.
Photo: Marites N. Sison
---
A series of reports on the planned self-determining Canadian Indigenous Anglican church presented to Council of General Synod (CoGS) Saturday, June 24, met with a mixture of approval and concern.
While some CoGS members said they were happy to see concrete steps being taken toward a self-determining Indigenous Anglican body, others expressed curiosity about how it would relate with the Anglican Church of Canada and concern about how much it would cost.
Canon Ginny Doctor, the Anglican Church of Canada's Indigenous ministries co-ordinator, had presented two reports to CoGS, including a 2018 budget   that asks for $1.2 million in funding for Indigenous ministry out of the national office, plus another $2.9 million to fund four regional offices it envisages. Among the budget's largest items are $450,000 for Sacred Circle and $1.2 million in salaries for staff at the four regional offices.
"It looks like a lot of money, and I suppose it is, but we wanted to be realistic," she said. "There isn't a lot of fluff here—what you see is what you get."
Indigenous ministry needs money to address a number of critical issues, she said, such as suicide prevention. There's also a strong need for more Indigenous catechist training, which combines traditional Indigenous and Christian teachings, and for more youth ministry.
Some CoGS members, however, expressed concern about how the Indigenous church would be financed.
"The budget costs projected are somewhat high in terms of travel costs and funding, and…it's significantly higher in proportion to other things that General Synod pays for, so who's going to fund it, I think, is our big concern," said one representative of a table group. (CoGS members had been asked to discuss in table groups their likes, concerns and hopes about the two presentations.)
However, there were also others who did not consider it to be an issue. "We weren't fearful about financial sustainability—we believe that God's work, done God's way, will get God's supplies," its representative said.
Others said they still had questions about the exact nature of the relationship between the Indigenous church and the Anglican Church of Canada.
"Will Indigenous Anglicans want to remain in the Anglican Church of Canada or be completely outside?" asked one representative. "That's a hard question that needs to be asked. What does self-determination lead to?"
Presenting an update on recent work done by a focus group charged with working out the shape of the Indigenous church, National Indigenous Anglican Bishop Mark Macdonald had explained that the group envisions Indigenous Anglicans, or at least some Indigenous Anglicans, as being members of both the new Indigenous "confederacy" and the Anglican Church of Canada.
"What we're working with now is the idea that some folks would have a kind of 'dual citizenship,' " he said. "A church, for instance could have a type of dual citizenship in their own diocese, but also [exist] as a part of Sacred Circle. There might be some jurisdictions, such as [the Indigenous Spiritual Ministry of] Mishamikoweesh, that would be completely aligned" with the new Indigenous organization. There are also likely to be many congregations with mixed Indigenous and non-Indigenous membership, with the Indigenous members belonging to both.
Something of a precedent for this type of arrangement already exists, he said, in the Anglican Military Ordinariate of Canada. The ordinariate, which is part of the Anglican Church of Canada, has its own bishop and chapels, but its members often belong to parishes within regular dioceses of the church.
Establishing the new organization, MacDonald said, would not require much change, since the key structures—the National Indigenous Anglican Bishop; Sacred Circle, the national gathering and decision-making body; and the Anglican Council of Indigenous Peoples (ACIP), the executive body—already exist. One major requirement would be for General Synod to pass legislation to set up Sacred Circle as a self-determining entity empowered to develop its own rules and method of operating, he said.
This and other legal measures that Indigenous leaders might want to take to establish the confederacy, MacDonald said, are outlined in a memo  sent to him earlier this year by Canon (lay) David Jones, chancellor of General Synod.
Some CoGS members said they were greatly encouraged to see the idea of the Indigenous church about to become a reality—"that the aspirations and dreams were actually surviving, waking up and having coffee over breakfast and were going to become fixed realities," as one table representative put it.
One challenge facing those planning the new church organization, Doctor said, was the need to hear more from Indigenous churchgoers themselves.
"We're not sure who is coming with us at this point, so we really have to talk to folks at the grassroots level," she said. "What do the people in the pews say?…We really don't know. So somehow we have to figure out how we move this information out and into the hands and minds of people that it's going to affect."
About the Author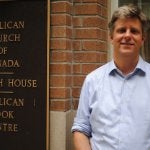 Tali Folkins has worked as a staff reporter for the Law Times and the New Brunswick Telegraph-Journal.  His writing has appeared in The Globe and Mail and The United Church Observer.
________________________________________________________________________________________________________________________________
Anglican Journal News, June 29, 2017