This weekend, on 'Sea Sunday,' The Mission to Seafarers (MtS) is asking Anglican churches to celebrate the contribution seafarers make to our everyday lives. 'Sea Sunday' provides congregations the opportunity to recognise and thank these seafarers for all they do, especially as many work under extremely difficult and dangerous circumstances.
The Mission to Seafarers is highlighting the challenges seafarers face, spending long periods at sea away from family and loved ones. The charity works in over 200 ports in 50 countries caring for the 1.5 million merchant seafarers of all ranks, nationalities and beliefs.
Secretary General for Mission to Seafarers Andrew Wright says, "Sea Sunday is the one day of the year, set aside by churches, to honour and celebrate the incredible work seafarers do. Without them, our quality of life would be greatly diminished as over 90% of everything we need and use is transported via the sea.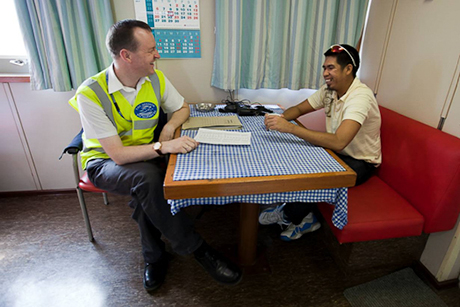 He says the Mission to Seafarers greatly values its close partnership with the Anglican Communion around the world: "This Sea Sunday I ask you to join with so many friends, both in the Anglican family and beyond, to support the Mission to Seafarers through prayer, celebration and donating to our appeal. We simply cannot continue to minister to seafarers without your kind support."
The charity is inviting younger members of congregations to write personal messages which the Mission to Seafarers will ensure are sent to chaplains to distribute to seafarers.  The charity's Flying Angel Centres are based in 121 ports around the world offering refreshments, recreational activities, internet, phone facilities, and the chance to spend time away from the ship. While their justice and welfare services offer vital professional help and advice if a seafarer has not been paid or is working in substandard conditions, being bullied or has been a victim of wrongful arrest.
One seafarer and his family who were experiencing a very difficult time in 2016 was Alejandro Gapasin from the Philippines. Alejandro had not been able to secure a new work contract and had been unemployed for a year, facing severe financial issues and struggling to pay for his children's schooling, food and mortgage payments.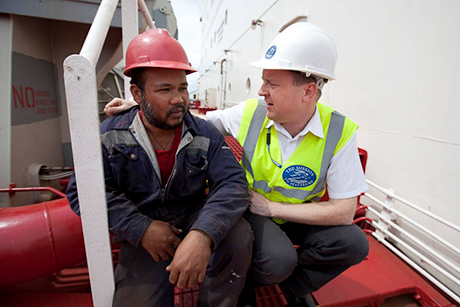 Alejandro and his family were looking at a very uncertain future and the stress of not knowing when he would find a job was taking its toll. Having been a seafarer for some years, Alejandro had encountered MtS chaplains before and had become good friends with one of the charity's chaplains Revd Mark Classen so felt able to share his story with him.
Alejandro says, "My bad condition became the bridge for Revd Classen to connect me to people at MtS in the Philippines. Their personnel and volunteers came to my home with groceries and the things we needed. However, more than their material gifts, they managed to give us spiritual support as they prayed for the family, giving us words of hope and comfort and telling us that they could fully relate to our situation. They explained the activities, mission and vision of MtS and that the organisation aspires to be of service to all seafarers worldwide, regardless of nationality, religion or gender."
He continues, "They left us all in awe as we were amazed with their passion and drive to be of service and support, especially to seafarers in distress like me during that period. My family and I are forever grateful to The Mission to Seafarers – they are all angels disguised as humans! We thank them for sharing some feathers from their wings during a time I was having a hard time flying on my own."
To take part in Sea Sunday and request free service resources visit www.missiontoseafarers.org/sea-sunday or email: Joseph.ONeill@missiontoseafarers.org
__________________________________________________________________________________________________________________________________
Anglican Communion News Service, Daily update from the ACNS on Friday 7th July, 2017