Posted on: January 16, 2017
Eighty delegates representing twenty institutions and ten countries met at historic Madras Christian College over the past week to discuss the common challenges they face in promoting an Anglican vision of education in an increasingly secular world. It was the Ninth Triennial of Colleges & Universities of the Anglican Communion (CUAC), a global network linking 140 institutions with historic ties to the Church of England and the Episcopal Church USA.
"It was the Indian context that made all the difference," said the Revd Canon James G. Callaway, CUAC's General Secretary. "Our themes were identity and diversity, and in a country like India those are not just abstract ideas, but challenges that students and staff at Christian colleges face each day."
While the delegates included bishops, vice chancellors, theologians, deans, and chaplains, Madras Christian and four other Indian colleges provided fourteen "Student Ambassadors." They not only helped the visitors find their way through busy Chennai — India's fourth largest city — but spoke movingly of their own experiences as members of a religious minority in an overwhelmingly Hindu culture.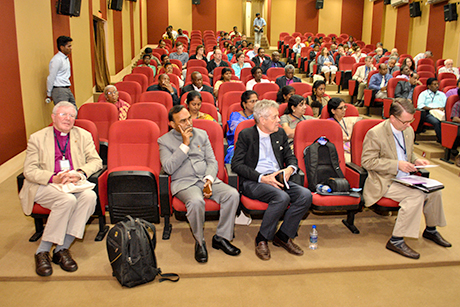 Plenary Hall at Madras Christian College
"One of the treasures of being at Madras Christian," Callaway said, "is that it offered so many opportunities for the delegates to dive deeply into the riches of South Indian life. We did not know in advance what a powerful experience this would prove to be for our delegates from Africa, Europe, East Asia, and North America."
The conference included keynote speakers, small  reflection groups, site visits, performances of Indian music and dance, and numerous opportunities for exchanges. "It had been twenty years since CUAC's Triennial in Delhi," said MCC Principal and Secretary Dr. Alexander Jesudasan, "so we were very proud to be partners in a CUAC conference in Chennai. Our staff started preparations three years ago, and the effort paid off for what turned out to be a historic event."
Keynoters spoke on such topics as what makes an educational institution "Anglican" in the 21st century, what strategies could be adopted to sustain this identity, and how in a market driven economy, students can still learn there is such a thing as the common good.
Colleges are not "factories" that produce degrees, said the Revd Dr Martyn Percy, Dean of Christ Church, Oxford, but must be "places that produce citizens of character and virtue." Another keynoter, Jamie Coats of the Society of St. John the Evangelist, Cambridge, Mass., demonstrated how social media could be harnessed by Christian educators to provide a global prayer network and a powerful educational tool for students. Other keynoters included Professor Gavin D'Costa (Bristol University), Professor Cristel Devadawson (University of Delhi), and Brother Monodeep Daniel (St. Stephen's College, New Delhi).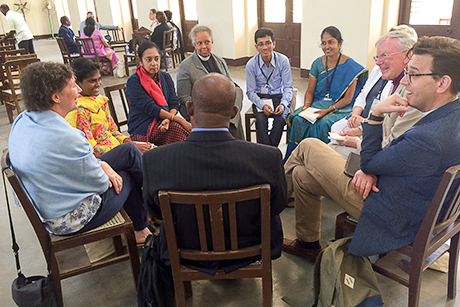 Delegates gathered in Reflection Groups throughout the conference
Delegates also visited St Thomas Mount in Chennai, where Board Chair The Revd Dr Robert Derrenbacker gave a meditation on the portrayal of St Thomas in the Gospels, pointing out that Christianity had been rooted in India long before the arrival Western missionaries in the colonial era.  They also visited Women's Christian College in downtown Chennai, a Baptist church in a low-income neighborhood, and the UNESCO World Heritage Site at Mamallapuram, a group of 7th-century Hindu monolithic temples on the Bay of Bengal.
Twelve chaplains from CUAC institutions stayed on for a two-day post-conference at Madras Christian to discuss issues of common concern.
Four new Voting Trustees were elected to the CUAC board: the Revd Dr Emmanuel Mbennah (president, St. John's University, Tanzania), Dr Linda Lankewicz (professor, University of the South, Tennessee), Dr Wilfred Tiu (president, Trinity University of Asia), and Dr Paul Dhayabaram (principal, Bishop Heber College). The Revd Dr  Robert Derrenbacker (president, Thorneloe University, Sudbury, Ontario) was re-elected chair.
CUAC's second Distinguished Fellow Award was bestowed upon the Revd Dr Spurgeon Maher, a longtime chaplain at Madras Christian and the South Asia Regional Programs Consultant for the United Board for Christian Higher Education in Asia. "He's a chaplain's chaplain," Callaway said, in reading the citation.
CUAC's 2020 Triennial will be held July 1-8 at Whitelands College, University of Roehampton, London, UK.
CUAC is a network of the Anglican Communion: www.cuac.org. For more information on its world-wide activities, please contact Charles Calhoun, Program Officer, at [email protected].
[email protected][email protected]
Anglican Communion News Service, Daily update from the ACNS on Tuesday 17 January 2017