Posted on: June 28, 2017
The Archbishop in Jerusalem and the Middle East, Suheil Dawani, has installed four new Canons at St George's Cathedral in Jerusalem during an international Anglican pilgrimage.
The Secretary General of the Anglican Communion, Archbishop Josiah Idowu-Fearon and the Archbishop of Hong Kong and Chairman of the Anglican Consultative Council,  Paul Kwong, became Episcopal Canons; the Bishop of Texas, Andrew Doyle was installed as an Honorary Episcopal Canon and the Provincial Secretary of Hong Kong, Peter Koon became an Honorary Canon.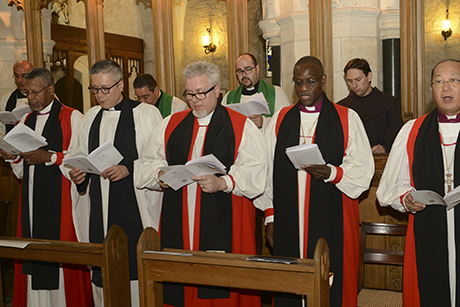 The new Canons celebrated Evensong at the Cathedral in the company of clergy from not only the diocese, but from around the Communion – including New Zealand, the USA,  Ghana, Liberia,  South Africa,  Canada,  Burundi and the West Indies. His Beatitude Patriarch Theophilos III and Archbishop Aristarchus of Constantine were also present.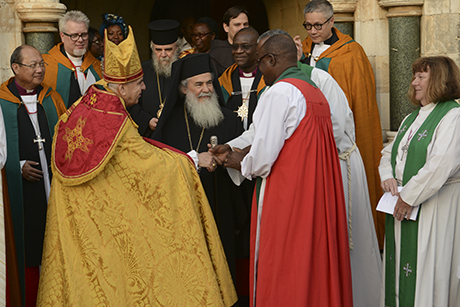 Archbishop Paul Kwong said: "This is a very tangible expression of Hong Kong's relations with THE mother church of Jerusalem, the cradle of Christianity.  For as long as I remember, Good Friday service collection from every parish of the Hong Kong Province has been dedicated to support the Anglican mission in Jerusalem.  This installation cements our friendship, co-operation and work together. We have much to give, share, and further in our joint witness to Christ.  I congratulate Archbishop Suheil on becoming the Primate of Jerusalem & the Middle East.  As a fellow primate,  I look very much forward to building on our friendship, to walk together, to work side by side and in doing more for the Communion."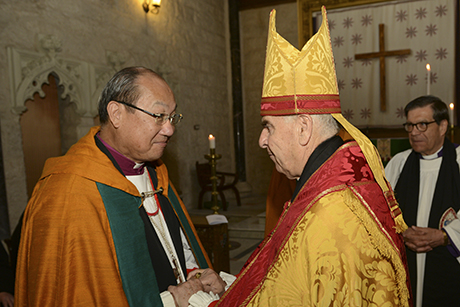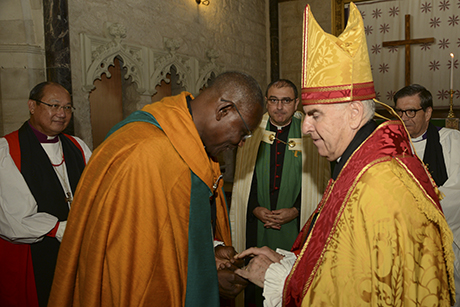 The four newly appointed Canons are participating in a pilgrimage to the Holy Land being led by Archbishop Josiah Idowu-Fearon; the group includes five Primates, five members of the Anglican Consultative Council, five Provincial Secretaries, five members of the Compass Rose Society and five Friends of the Anglican Communion.
_________________________________________________________________________________________________________________________________
Anglican Communion News Service,  Daily update from the ACNS on Wednesday 28th June, 2017