Worship at General Synod 2016 will encourage members to reflect on "how we are hearing God speak to us through Scripture," says the Rev. Martha Tatarnic, chair of the worship committee. Photo:  André Forget
---
When General Synod meets in Richmond Hill, Ont., July 7-12, the worship will focus on getting back to the roots of the Anglican liturgy, according to the Rev. Martha Tatarnic, chair of the General Synod 2016 worship committee.
While the emphasis in planning worship for the previous General Synod, in 2013, was on innovation, the hope this year is that people will "experience something of God's newness in the familiar," said Tatarnic.
"This General Synod, I think, is much more about being grounded in what has been passed along to us," said Tatarnic, who served on the worship committee at the last meeting as well. "There is the expectation that through those traditional pieces…baptism, [The Lord's] table, Scripture…we will have a new experience of God at work in our midst."
Tatarnic said the worship committee's work has been guided by three principles: a desire to make the worship Scripture-centric, commitment to ensuring the space feels sacred and attentiveness to the synod's theme, "You Are My Witnesses" (Isaiah 43:10).
The committee is considering text-based forms of worship like Lectio Divina (Divine Reading) and the practice of gospel-based discipleship common among First Nations Anglicans, to encourage members to reflect "how we are hearing God speak to us through Scripture."
Tatarnic acknowledged that the emphasis on time spent thinking and praying about Scripture was shaped by the fact that members of synod will be voting on whether or not to change the church's Canon XXI to allow for same-sex marriage.
"This is a difficult conversation for many—there certainly is the anticipation afloat in the church that it will be controversial, or that it will be divisive," she said. "I would say the worship committee is very much attentive to lifting up our common ground, lifting up the places in our faith that actually are the source of our unity."
But the worship will also reflect the diversity of the church, Tatarnic said. On July 10, the day on which matters of particular interest to Indigenous Anglicans will be discussed, the Sunday morning Eucharist will be planned and led by Indigenous leaders.
"It has been a great opportunity to work with [the Indigenous leaders]," she said. "We have tried very much to be attentive to that conversation, [it] being such a big piece of what we are doing together this summer at General Synod in terms of truth and reconciliation."
About the Author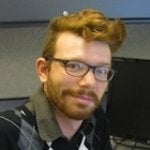 André Forget joined the Anglican Journal in 2014 as staff writer and social media lead. He also serves as managing editor of Whether Magazine, and his writing has appeared in The Dalhousie Review, The Winnipeg Review, and the Town Crier.
____________________________________________________________________________________________________________________________________
Anglican Journal News, April 15, 2016