St. George's Cathedral, Episcopal Diocese of Jerusalem. Photo: Anglican Video
---
With the approach of Jerusalem Sunday this weekend, the Anglican Church of Canada's national office has released new liturgical resources, including reflections from a pilgrimage by Ottawa-area women to the Holy Land last year.Last November, 25 lay women from the diocese of Ottawa visited Israel and the occupied territories, witnessing Anglican ministry and meeting local people. Five reflections of three of these women are included in the sermon notes prepared for Jerusalem Sunday this year.
The notes also include reflections on scriptural passages by Patricia Kirkpatrick, chair of biblical studies at McGill University.
The sermon notes are "a little bit more personal" than the notes of previous years, Andrea Mann, director of global relations, said in a statement released Thursday, May 25.
The new liturgical resources also include a bulletin cover that features the Princess Basma Centre for Children with Disabilities, a children's physical rehabilitation hospital and a ministry of the Anglican diocese of Jerusalem.
In the past, special Jerusalem Sunday offerings from Canadian Anglicans have supported the Penman Clinic, located in Zababdeh, north of the West Bank, which is associated with St. Matthew's parish. But the children's hydrotherapy pool program at the Basma Centre has emerged as a new priority and this is what special Jerusalem Sunday offerings will support this year, according to the statement.
Jerusalem Sunday was established at the 2013 Joint Anglican-Lutheran Assembly as a way of encouraging Canadian Anglicans to learn more about and support the diocese of Jerusalem, which includes Anglican parishes in Israel, the West Bank, Gaza, Lebanon, Syria and Jordan. It is observed on the seventh Sunday of Easter.
The diocese's Archbishop Suheil Dawani was recently elected to a two-and-a-half-year term as primate of the province of Jerusalem and the Middle East, according to an Anglican Communion News Service story from earlier this month. The province stretches from Algeria to Iran, and from Cyprus to Somalia.
About the Author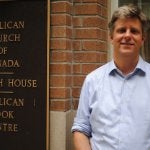 Tali Folkins has worked as a staff reporter for the Law Times and the New Brunswick Telegraph-Journal.  His writing has appeared in The Globe and Mail and The United Church Observer.
_________________________________________________________________________________________________________________________________
Anglican Journal News, May 26, 2017