Archbishop Terence Finlay will be remembered for his happy spirit and his "engaging, consultative" style of leadership, says Archbishop Colin Johnson of the diocese of Toronto.
---
Terence Finlay, who served as bishop of the diocese of Toronto and metropolitan of the province of Ontario from 2000-2004, died early on the morning of Monday, March 20. He was 79.
Archbishop Colin Johnson, bishop of the diocese of Toronto and metropolitan of the province of Ontario, said, in a statement released by the diocese, that among the things he would miss most about Finlay were his smile and laughter. "Essentially, right at the heart of things, he was a joyful, hopeful, happy person, and deeply faithful."
Finlay also served, after his retirement, as chaplain to the House of Bishops, episcopal visitor to the Mission to Seafarers in Canada and primate's envoy on residential schools to the Truth and Reconciliation Commission. In 2014, he was named to the Primate's Commission on Discovery, Reconciliation and Justice, a body formed to identify ways for the Anglican Church of Canada to put into practice its 2010 repudiation of the Doctrine of Discovery.
Johnson also praised what he called Finlay's "engaging, consultative" leadership style. "He had an ability to draw people together into consultative groups," Johnson said. "In spite of huge controversies that took place, he was able to engage people across a wide spectrum of theological and social issues. That allowed conversations to happen during a highly polarized period of time."
Finlay had "a great heart and passion" for ministries having to do with truth and reconciliation over the legacy of the Indian Residential Schools, Johnson said. He also loved serving as a parish priest, recalled Johnson, and served many churches as interim parish priest after he retired.
Finlay made headlines in 1991 when he fired the Rev. Jim Ferry, a priest in the diocese of Toronto, after learning he was in a same-sex relationship. Years later, Finlay said he came to regret his decision, and in 2012 Finlay and Ferry were reconciled at a special service. In 2006, after he retired, Finlay married two lesbian friends. He was officially reprimanded, and his licence to officiate at marriage was temporarily suspended.
Born in London, Ont. in 1937, Finlay earned a B.A. at the University of Western Ontario in 1959, and then a bachelor of theology at Huron College. He was ordained a deacon in 1961 a priest the following year. From 1962-1964 Finlay took a leave of absence to resume his studies in England. From 1964-1966 he served a number of positions, including rector of All Saints', Waterloo, and Anglican chaplain at the University of Waterloo and Wilfrid Laurier University. In 1967, Finlay received his MA from Cambridge University.
Finlay served as rector for a number of churches in the diocese of Huron, becoming archdeacon of Brant, in the same diocese, in 1978. He came to the diocese of Toronto in 1982, and served as suffragan bishop from 1986-1987, then coadjutor bishop of Toronto from 1987-1988. In 1989, Finlay was installed as diocesan bishop of Toronto, a position he filled until 2000. From 1986, he served as liaison bishop for the Missions to Seafarers in North America and the Caribbean.
According to the diocese of Toronto's statement, Finlay was supported throughout his ministry by his wife, Canon Alice Jean Finlay, who served on the Central Committee of the World Council of Churches, among other international organizations. The statement offers prayers for her and the Finlays' daughters, Sara Jane and Rebecca, and their families.
As of press time, a funeral for Finlay was to take place at the diocese of Toronto's Cathedral Church of St. James, Saturday, March 25, at 10 a.m., with visitation and vigil the previous night.
About the Author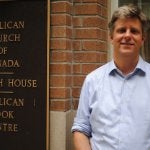 Tali Folkins has worked as a staff reporter for the Law Times and the New Brunswick Telegraph-Journal.  His writing has appeared in The Globe and Mail and The United Church Observer.
__________________________________________________________________________________________________________________________________
Anglican Journal News, March 20, 2017